The new guidelines from the Governor and DPH have allowed for greater indoor visitations with personal contact. The only time a community is closed to any visitation beyond compassionate care visits is during an outbreak. Now, we can have indoor visitation when the 14- day Positivity Rate is 10% or greater (RED) with greater than 70% resident vaccinated or Positivity rate is Yellow or Green less than 10% without regard to vaccination rate of residents. Also, if residents are vaccinated and the resident can wear a mask and you wear a mask and hand hygiene you can have close personal contact.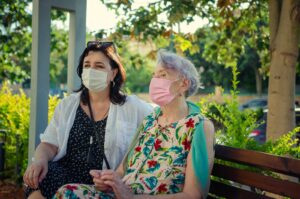 The only thing that will push us back to primarily outdoor visits for a short time is if our community transmission rates go up to 10% or greater with less than 70% of our resident vaccinated or we have an outbreak in the community. But now that all Georgians are being vaccinated, we hope we will gain ground in this area especially with our safe hygiene practices and increased ability to test and provide isolation care.
We ask all visitors to please schedule with us and limit indoor visits to 2 individuals who can mask and adhere to infection control safety precautions, social distancing, meeting in designated areas or resident room and leaving through designated areas. Of course, outdoor visitation is the safest method and will allow you to have a group of family interact. Let us know if a large group so we can assist.
We love having you back with us! Please schedule your visits with the front desk so we can ensure as many families can see their loved ones safely and on sign in review screening protocols and questions, provide us with your contact and notify us if you have any signs or symptoms or test positive during next 14 days. If anything changes on visitation, we will keep you updated. If you come frequently, we may ask you to be tested when feasible or warranted.
Latest posts by Woodland Ridge Staff
(see all)