Times can be tough when you have an elderly parent dealing with various challenges. Some of these challenges could be related to the natural process of aging or they could be due to chronic health issues. Sometimes, aging men and women might be diagnosed with a form of dementia, such as Alzheimer's. Assisted living is a topic you may want to discuss, since you may be this person's primary caregiver, and you may have been doing this for a while.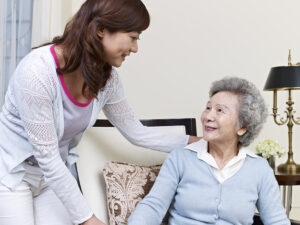 If that's the case, you know just how much stress can affect your life. It infiltrates every corner and aspect of your life and, the longer caregiving goes on for, the more difficult it becomes to deal with these extreme challenges.
Assisted living is a wonderful option for those elderly men and women who may be struggling with basic tasks of everyday life.
What might these basic tasks be?
If you haven't been a caregiver for an elderly parent, grandparent, or other loved one just yet, but you see the warning signs that could very well be on the horizon, this aging person may need help with a wide range of everyday tasks.
Some of that might include light housekeeping. Just doing some dusting or vacuuming may become far more challenging for somebody of advancing years, especially if they are dealing with chronic health issue or were in the hospital for a significant length of time.
The senior may no longer be able to drive — if they ever did — and that means they will have difficulty getting to the grocery store. Just because grocery stores are now offering delivery service doesn't mean the aging person in your life can afford it, or want to pay the extra service fee associated with these deliveries.
You may be tasked with going shopping for them, bringing them to the store, and so forth. But that's not all.
You might need to help them do the laundry, prepare meals, clean up after dinner or other meals in the day, and perhaps more intimate matters, such as bathing or toileting.
Assisted living is a great way to help a caregiver reduce stress levels.
This is focused on family caregivers, which happen to be the most common type of caregiver in the United States. Family members are the ones who step up and provide support for aging parents and other individuals who need help.
When you are supporting somebody you care about, somebody older or even your spouse or sibling who is of advancing years, the older you are, the greater the toll it will take on your physical and, most likely, emotional well-being, too.
Assisted living allows elderly men and women the opportunity to live life on their terms and have professional, experienced support staff on call if they need it. Even for seniors who have been diagnosed with some form of dementia, a memory care assisted living facility is a great asset. It is something to talk about as a family and the longer you wait, the more stress will affect the family caregiver supporting this aging loved one.
Latest posts by Woodland Ridge Staff
(see all)