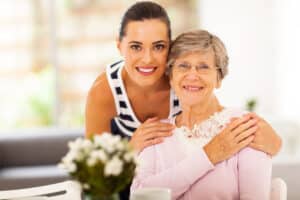 One of the things I hear very often from clients who have a loved one with dementia is that they can't do anything for themselves anymore. Help comes in many forms. Whether it's professional care assistance, companionship, or having family/friends to assist, more and more I am hearing that the person caring for the one with dementia just wants an hour or two to go see friends, exercise, or get their nails done, etc.
Where a professional caregiver is not always feasible or may not make sense for the limited time the help is needed, we can then turn to friends or family members to assist. However, as the disease progresses, we, unfortunately, see those people slowly drift out of our lives. This was something my family experienced personally when my grandmother was making her journey with dementia. Loved ones and friends slowly became more unavailable or stopped answering calls for help. They visited less and had many excuses as to why they were unable to help. Why does this happen? In my personal and professional experience, it is because these friends and family are not sure HOW to visit anymore. They care deeply for both the caregiver and the person that has the disease, so they do not want to say or do the wrong thing. They may not know when the best time is to visit or know what to do if a behavior occurs or how to redirect if the person is constantly seeking out their trusted family member who is no longer in the room or house.
So, I'd like to offer some ways that the caregiver and the friend or family member coming to visit can work together to allow time for everyone to do things they enjoy.
1. Identify the best time of day for the visit to occur. If 2:00 pm proves to be a time of day when more behavioral expressions occur, then find a time before or after that when the behavioral expressions are minimal to nonexistent. A functional schedule can help determine when those "sweet spots" in the day occur.
2. Write down the functional schedule and share it. If loved ones know the best schedule for that person, they can then offer up their time rather than waiting for us to ask.
3. Write down information like things that calm the person, agitate them, and things they enjoy doing.
4. Make a list. Having even a very short list of specific activities that a person likes can create engagement options for the visitor. Have this, and the items required for the activity, easily accessible for visitors to refer back to.
5. Start slowly. Slowly build the length of time to be away. Start with 30 minutes to an hour at a time and then build from there. This allows EVERYONE to become more comfortable.
For more information, suggestions, or tips you can reach out to us at Woodland Ridge at 770-431-7055.
Latest posts by Woodland Ridge Staff
(see all)