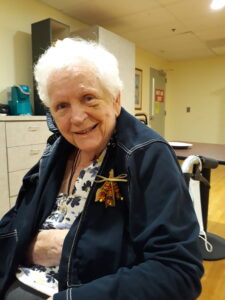 In our resident spotlight for February is Ms. Mary. She was born and raised in Orlando, Florida and had 3 siblings. Her younger brother, David and Ms. Mary were very close. The story goes that every day they were to fetch water for the house. They had a bucket and a stick to carry the bucket. Ms. Mary always told David to stand on the same side of the stick, knowing he would carry most of the load from that side. Ms. Mary loved to play tricks on her little brother! Ms. Mary's mother was a seamstress and made clothes during the depression. A wealthy neighbor purchased these dresses just to help the family out. As a result, Ms. Mary was named after this neighbor and so is Ms. Mary's granddaughter.
Ms. Mary was in the honor society in high school and also met her future husband in 9th grade. Their parents tried to keep them apart sending them to different colleges, but they got back together after 2 years, married and finished college together at the University of Florida. Ms. Mary majored in education, but only taught for a few days because the kids were so awful. She instead went to work as a professional assistant at IBM where her husband, Jim, worked as well. Ms. Mary's work career began after college and she worked 11 years before having her children. She then took time to raise her children before returning to work to help pay for their college educations.
One reminder of her college days is the trophy she won for playing Ping Pong on a team. Ms. Mary used the trophy to cut her biscuits for many years! Ms. Mary's husband was in the Army reserves and after college the Army moved them to England for a few years. When Jim was recruited by IBM, he and Mary moved to upstate New York. They later were transferred to North Carolina and eventually back to Florida.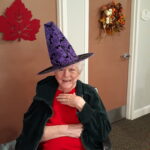 Ms. Mary and Jim had 2 children, son, Jimmy and daughter, Kendell and they have 1 granddaughter, Kip. Kendell remembers her Mom sewing outfits for her and making crafty gifts for their teachers. Ms. Mary loves crafts of all kinds, pottery, bridge and cooking. She was part of a cooking club and loves books. Her other love is watching sports, especially college football, gymnastics, ice skating and tennis. Here at Woodland Ridge, Ms. Mary enjoys the craft classes, music activities, pet visits and games. As you can see, Ms. Mary is very photogenic and shares that wonderful smile with us all the time.
We love having Ms. Mary as part of our Woodland Ridge family!
If you or an aging loved-one is considering a move to an Assisted Living Facility for Elder Care Services in Smyrna GA please contact the caring staff at Woodland Ridge today. 770-431-7055 
Latest posts by Woodland Ridge Staff
(see all)