Woodland Ridge Supports Its Community to Embrace COVID Vaccinations
By: Amy Brannen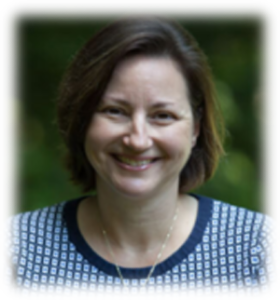 It takes a community effort to make the COVID-19 vaccination successful. When the federal government commissioned the vaccination of Americans, Woodland Ridge approached CVS to get its senior members vaccinated.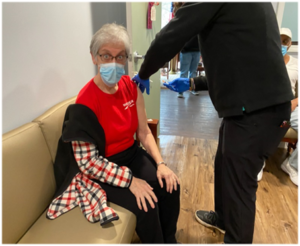 When CVS was unable to schedule quickly, Robert Dixon, our marketing director and Amy reached out to a community pharmacy provider – Physician's Pharmacy – who was as eager as us to get shots into the arms of our seniors between a January 2 and January 30 vaccination window.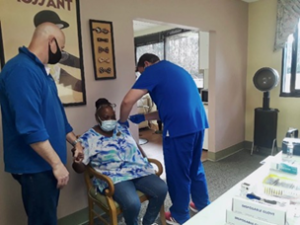 Through our combined efforts, we have vaccinated 92% of our residents and 70% of our staff so far, as well as many families over the age of 65 and our care partners who come to the community. But we did not stop there. Our local community asked for help and we responded. Up to now, we have organized 6 successful clinics, including one for our Smyrna Towers neighbors. We have several more planned in March with local churches around us.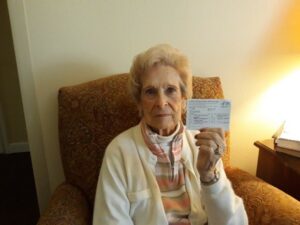 Organizing the clinics brought fanfare to life. At our Woodland clinic, we made the administering of shots with residents with dementia very engaging with music and dance. Our residents look forward to care-related activities that are engaging and fun for full involvement. Knowing this, we planned the clinic in such a way that it had a celebration atmosphere. With an overall sense of pride and purpose, a local DJ mixed upbeat music getting a response of high fives and energetic, roll-sleeved staff. The entertainment ensured an amazing atmosphere matched only to July 4 celebrations.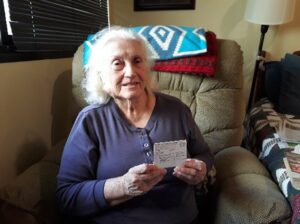 Woodland believes in community connections. We are a proud nonprofit organization with a mission to integrate our residents into functioning community life. We were committed to ensuring that seniors in the City of Smyrna in Cobb County would be adequately vaccinated and protected from the ravages of the coronavirus. Our partnership with Physician Pharmacy ensured that we gave back and helped seniors with limited access to transport needs receive COVID vaccinations. Other seniors with scheduling issues also got vaccinated as well. We are more committed than ever, particularly now, as we seek to reunite families, increase our community vaccination numbers, and continue with safe infection practices. We felt the positive enthusiasm at the organized clinics and were moved by the joy of seniors in getting vaccinated. The wide grins were precious and fulfilling. Our engagement speaks to making a difference through vaccinations that save lives.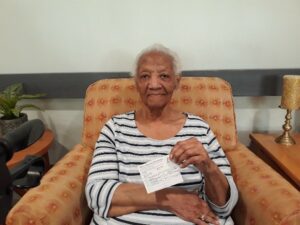 We got basketful responses of thankfulness from families due to our vaccination efforts. We were overwhelmed with letters, emails, and further invitations for future vaccinations. The next article on Positive Conversations on COVID-19 features sincere stories about COVID-19 impact from families.
If you or an aging loved-one is considering a move to an Assisted Living Facility for Services in Symrna GA please contact the caring staff at Woodland Ridge today. 770-431-7055 
Latest posts by Woodland Ridge Staff
(see all)