Ms. Margaret was born November 25, 1930 in Bloomington Springs, Tennessee. She had 3 older brothers, 1 younger brother & sister. She lost her mom at the tender age of 10 and helped take care of her younger siblings.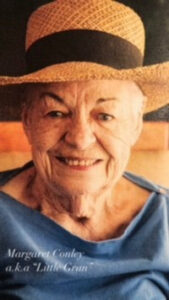 She married her husband, Warren, in 1949. She was a homemaker to their 4 children, which included a set of twins. Tragically she lost the love of her life in an auto/truck accident in 1971, leaving her alone with 4 children at the young age of 40.
Always being fashionable and loving the makeup industry, she bought a Merle Norman Cosmetic Studio in Sparta, Tennessee operating it for many years. After selling her shop she moved back to Texas where she and her husband had lived and raised their children for many years before moving to Tennessee.
After losing her oldest son in 1986, she moved to Alabama to be near her sister for a while. She ultimately ended up in Georgia to be near her daughters, Janice, Denice; her youngest son, Jeff; and her grandchildren, who affectionately call her "Little Gran".
Margaret has had much loss throughout her life, but also found much joy in her life with her children, 6 granddaughters & 1 great-grandson.
Even though Ms. Margaret is now in the Memory Unit at Woodland Ridge and doesn't remember any of her past she still lights up when any one of her family comes to visit even if it is on the porch or through the window!
We love having Ms. Margaret as part of our Woodland Ridge family. She always has a smile and kind word for everyone.
If you or an aging loved-one is considering a move to an Assisted Living Facility for Elder Care Services in Smyrna GA please contact the caring staff at Woodland Ridge today. 770-431-7055 
Latest posts by Woodland Ridge Staff
(see all)