Visitation in Georgia's LTC communities (Assisted Living in our case) is based on 2 main criteria per the Georgia Department of Public Health. The first is the PCR testing positivity rate in the surrounding county. They have color coded these rates as:
Green- < 5% positivity rate
Yellow- between 5 and 10% positivity rate
Red- > 10% positivity rate
DPH comes out with the two previous weeks rates on a weekly basis usually on Tuesday for the previous 2 weeks period.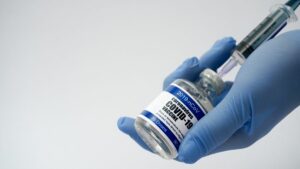 Green is the least restrictive phase due to the very low positivity rates in the surrounding area. During green phase, only non-vaccinated visitors are required to keep on their masks during indoor visitation. At this time, visitation is allowed in the resident's room as well as in other designation areas. Vaccinated visitors and residents may visit without wearing masks in rooms or visitation areas. Residents may also engage in social outings with loved ones and friends.
Yellow is more restrictive due to an increased positivity rate. Visitation guidance is the same as in green we just ask visitors to exercise increased caution during visits.
Red is the most restrictive indicating a high positivity rate in the county. Visitation guidance is more limited with no in room visitation outside of compassionate care visits. We also are asking that residents refrain from social excursions and only leave the building for medically necessary appointments. Visitation in designated areas and outside are encouraged at this time. We are also asking all visitors to keep their masks on throughout the indoor visit regardless of vaccination status.
The second criteria is based on the level of outbreak of COVID cases inside the assisted living. Phase 2 is when the assisted living has zero resident and staff cases that originated inside the assisted living. Phase 1 is when there is a positive case of COVID with either a resident or 2 or more staff members that originated in the assisted living. Responsible parties will be contacted upon a change to Phase 1.
Visitation can be done during both criteria- it is just limited in scope when the assisted living is under a phase 1 outbreak in the entire building. If that occurs then window or outdoor visits will be the best option until we can return to phase 2 status. Compassionate care visitation will be available throughout all phases with coordination with the Executive Director.
Latest posts by Woodland Ridge Staff
(see all)