Reading Time:
2
minutes
Resident Spotlight for September 2021
Our Resident Spotlight shines on Yvonne Zachary for the month of September. Ms. Yvonne is from Atlanta and grew up with 3 brothers. She went to Turner McNeal High School and while there played in the band and played basketball. Ms. Yvonne was on the honor roll and later in life was the President of the reunion committee several times.
After high school, Ms. Yvonne went to Tennessee State University and continued to play in the band and was a member of the honor society. When she graduated, she began her teaching career at Fayetteville Middle School where she taught for 35 years, being honored as teacher of the year numerous times.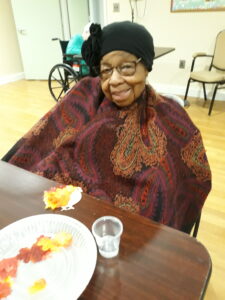 Ms. Yvonne has 2 daughters, Yolanda and Marcitia, as well as 4 grandchildren. Yolanda remembers her Mom being a member of a social club called La Feminists and taking she and her sister to events for the club. Other hobbies include watching TV and movies, reading and traveling. Ms. Yvonne has been to all 50 states and traveled the world too. She especially enjoyed Paris, France, the Caribbean and Florida.
Ms. Yvonne has been very involved in her church, as a lay speaker, organizing the food drives and as President of the United Methodist Women's group. Once Ms. Yvonne retired, she was as busy as ever. She spent 30 years volunteering at the Harriett Darnell senior facility, working in administration helping seniors get food vouchers and electric vouchers to help them when they most needed that help. Mayor Kaseem Reed honored Ms. Yvonne with a letter of appreciation for all of her volunteer work in the city of Atlanta.
At Woodland Ridge, Ms. Yvonne is involved with many activities, from crafts and parties to music and pets. She always has a friendly smile that brightens the day of residents and staff alike.
We're honored to have Ms. Yvonne be part of our Woodland Ridge family!