RESIDENT SPOTLIGHT FOR OCTOBER 2021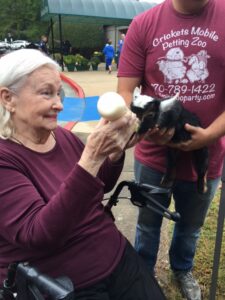 Our Resident Spotlight shines on Nell Mardell for the month of October. Ms. Nell is from Atlanta and has one younger sister, Laurie. In school her favorite subject was writing and art. She was the designer of invitations, banners and decorations. This led her to Stephens College in Columbia, Missouri where she was the literary magazine editor.
Ms. Nell loved to go to the formal dances and that's where she met her future husband, while he was a student at Emory and Ms. Nell was a senior in high school. They married after Ms. Nell's first year of college and when her husband joined the Air Force, they were stationed in Presque isle, Maine for 2 years.
They have 3 children, 2 sons and 1 daughter as well as one grandson, Nick.
Ms. Nell and her family lived in St. Augustine, Florida after they left Maine until 1965 when they relocated to Atlanta. Ms. Nell managed to take care of her children and attended Georgia State University and took art classes at the High Museum of Art.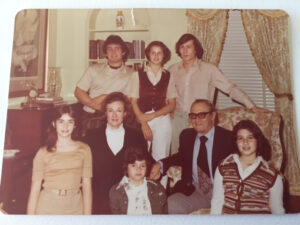 It was during this time that she became a supporter of racial justice and civil rights. Her close friend worked for Martin Luther King, Jr. and Ms. Nell had a paid position working for the ACLU in Atlanta. In the 1970's Ms. Nell taught art classes at her home and later became an assistant art teacher at The Galloway School. Ms. Nell divorced and later married David Mardell and became stepmother to his 3 children. In the 1980's they started a successful real estate appraisal business together.
By 1997, it was time to retire to The Villages of Lady Lake, Florida where she was active in art clubs and won awards for her artwork. Going to garage sales, swimming, reading, traveling and visiting museums are just some of Ms. Nell's favorite hobbies. She had some wonderful trips with family to Europe and around the United States. Her daughter, Linda, says Ms. Nell instilled a love of learning, reading, art, travel and exploration, nature and animals to her children. She says her Mom was always ready to do something fun on the spur of the moment and was the car pool Mom who took them to 7-Eleven for slurpies on the way home.
Here at Woodland Ridge Ms. Nell enjoys the parties, the pet visits and holiday activities. One of the photos accompanying this story is of Ms. Nell, her daughter and the portrait she painted of Martin Luther King, Jr. We're so happy Ms. Nell is part of our Woodland Ridge family, where she still looks out for all her friends with her caring attitude.
Latest posts by Woodland Ridge Staff
(see all)