The first time Donald's family thought what they were witnessing with him could be Alzheimer's, he had been struggling with some aspects of his memory for a while. They couldn't be sure, but his daughter and son thought they first recognized some challenges for him about a year or so earlier. Assisted living might be an option for memory care.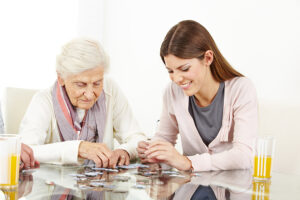 It was a tough diagnosis to handle for everyone, including Donald. He knew a little about it. His mother had dealt with the disease more than 30 years earlier and it had been in the back of his thoughts for a long, long time.
They didn't really know what to do.
His mother ended up in a nursing home toward the end of her life. Donald's father did the best he could for her, but he was not equipped to handle the challenges that came along with this disease.
He didn't know what to do. There wasn't the same number of resources at that time. There wasn't the Internet to go online and look up symptoms and strategies.
There also wasn't any real research about the impact certain activities could have on people with Alzheimer's. Today, there has been a lot and one such study found that mental stimulation could slow down the progression of memory loss (Fisher Center for Alzheimer's Research Foundation), which is a big deal for someone like Donald.
His family began looking to all options for memory care.
They wanted to have all options available for him. While he wanted to be home, he understood what was going to happen in the future. He knew the challenges it would impose on his wife of 43 years, and his children.
Assisted living was something they looked into, though not as seriously at first, mostly because they had the wrong idea about what it was and what it offered.
When they learned about mental stimulation and what activities could be advantageous for something with memory related challenges, they also discovered that a quality assisted living community near his home offered a wide range of music, arts and crafts, trips to local galleries and museums, and other mentally engaging activities.
Creativity was often at the heart of these endeavors and for someone seeking mental stimulation, there are few things more beneficial than being creative. It was a great benefit for Donald and his family when he finally chose assisted living.
Latest posts by Woodland Ridge Staff
(see all)