When an aging person is struggling with vision related problems, that doesn't automatically mean they have to move from their home. However, assisted living can be a great option to consider. In the grand scheme of senior care options, assisted living is one of the best, not just for people who have vision related challenges or vision loss, but even those aging seniors who are perfectly healthy, strong, and fit.
What makes assisted living a great senior care option?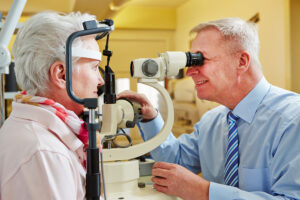 It offers a sense of community. When you are surrounded by people your own age, often many of whom share common interests, including entertainment, exercise or sports, and so forth, you have a lot to talk about.
You will often meet a number of people and become friends with them if you are a senior who chooses assisted living.
Assisted living also offers support. This can be emotional or physical support. With highly trained and qualified staff members, a quality assisted living community can be a great support system for an aging senior if he or she has trouble with certain tasks of everyday life.
At assisted living, seniors no longer have to worry about general upkeep, cleaning, maintenance, and even cooking. They can simply enjoy life, the way they should.
So, why does someone with vision related problems choose assisted living?
October is (World) Blindness Awareness Month and just because a person may have had perfect vision their entire life, that doesn't mean they may not face the prospect of losing their vision completely at some point in their 70's, 80's, or 90's.
It could be the result of cataracts, glaucoma, macular degeneration, injuries, and so many other prospects. Just because an aging senior may face the prospect of vision loss or is experiencing some type of degenerative condition in their eyesight, that doesn't mean they have to stop living.
When the elder chooses this type of senior care option because of vision related challenges or perhaps other physical infirmities, it means they can continue living life on their terms, not somebody else's.
Just imagine that individual living at home alone. They will have to relearn everything about their life. They will start to count the steps to the bathroom, walk with ginger strides, worried that every single time they put their foot forward they could trip on something, bump into the wall, fall down, and be seriously injured.
Yet, an aging senior who is at assisted living will feel more confident because, if they worry about something as they are getting out of bed, they can call an experienced staff member for help. They will have other seniors who can assist them walking down the hall to the dining cafeteria or to the entertainment room or walking around the grounds outside and enjoying the nice weather, or whatever they wish to do.
It is simply a safer environment for somebody who is facing vision loss in their Golden Years.
Latest posts by Woodland Ridge Staff
(see all)