Historically, we select our Employee of the Year in December. Since this has been an extraordinary year in so many ways, we felt compelled to name all of our employees as Employee of the Year. Each and everyone went above and beyond during the year.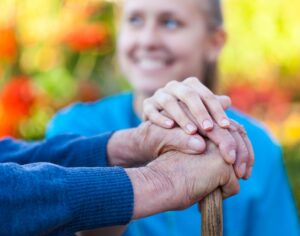 We've had to fill in for each other, doing other's tasks, caring for those with Covid and caring for those without, as well as keeping everyone safe. We discovered in early April that we had some residents who weren't feeling well, had no appetite and extreme fatigue. These were not the symptoms we had been warned to look for as Covid, but our management team decided we needed to test everyone. It was then that we discovered that we had Covid in our building.
While it was a frightening time, we had many employees that were still willing to take on the task of caring for our residents, Covid or not. In each department we observed heroic actions. Everything from serving food to each resident in their room, doing multitudes of laundry, to keeping everyone's spirits up with activities and keeping families informed were just a few of the many tasks involved.
Gratefully, we have had no new cases acquired in our community since the initial outbreak. We can thank all those staff who have continued to stay away from events, wear masks and wash their hands to keep us all safe.
Woodland Ridge is proud to call our staff Healthcare Heros!
If you or an aging loved-one is considering a move to an Assisted Living Facility for Caregiver Services in Smyrna GA please contact the caring staff at Woodland Ridge today. 770-431-7055 
Latest posts by Woodland Ridge Staff
(see all)