There could be a number of reasons why you can't support an aging parent who may be dealing with tough situations right now. Maybe they've been injured, hospitalized, have undergone major surgery, are ill, or simply age is catching up with them. You might live in another state, across the country, or around the world. Even if you live in the same town, right down the street from them, it may not be practical for you to directly support this individual. There could be past traumas, relationship difficulties, or other obstacles in the way. Senior care doesn't mean you or somebody else in the family has to take care of this person. In fact, the best senior care services come from professional, experienced individuals who know the best strategies to help aging seniors.
Senior care provides support.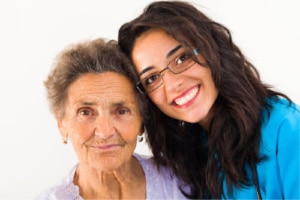 Assisted living is one of the top options for aging seniors to consider when they need support, especially on a more regular basis. Whatever senior care choice they make, communication with you and other family members and friends is still crucial to maintaining a high quality of life and helping that person feel as though they still matter.
Some people struggle — even in the age of smartphones and tablets, video teleconferencing, and so much more at their fingertips — to stay in touch with the people around them. It's easy to let a few days go by, but then those few days eventually turn into weeks, then months, or even years.
While (in most cases) family members are not going to go years without talking to one another in some form or another, when an aging parent requires senior care, there are ways to improve communication between you and that individual (as well as other family members through this process).
Get connected on social media.
You may be one of those people who is hesitant (or has been hesitant so far) to get on Facebook, Twitter, Instagram, or one of the other dozens and hundreds of social media platforms. You don't have to try and connect with people you went to high school with 50 years ago; get on social media, set up a profile, and connect with your immediate family members and friends, especially those who have a vested interest in staying close to this aging senior.
Encourage everyone to get on the same platform and set up a group. This would allow you and the senior and others to stay in close communication, get updates on what everyone else is doing, and feel a bit closer, even though the distance may be great.
Schedule phone calls and Plan in-person visits.
In our age of hustle and bustle, constantly being on the go, it's easy to say, "I'll call them tomorrow," but then never get around to it. Instead, schedule phone calls with the people in your life.
Talk about when you can visit, when you have time off from work or are free from other obligations. When you make plans to visit this aging senior, though, make sure to follow through. Whatever you can do, make sure that a scheduled visit happens.
And while you're setting up and improving communication, keep pointing them to assisted living because it truly is the best senior care choice to make.
Latest posts by Woodland Ridge Staff
(see all)