Wanda Braziel Award Winner – December 2021
The Wanda Braziel Award was established ten years ago in honor of a former board member to recognize an individual who throughout their tenure exemplifies excellence in service to the community and compassionate care to the residents. A person who is the ambassador for Woodland Ridge amongst the community and whose contributions are extremely valuable to promoting the mission of the organization. It is the highest award that a staff member can achieve.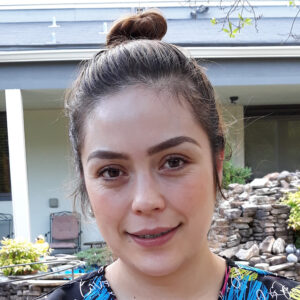 This's year's winner of the Wanda Braziel Award for outstanding service to Woodland Ridge goes to Juana Sanchez Martinez. Juana is our housekeeper that has been with us for 13 years and was our one constant through the pandemic in keeping our community clean and sanitary, all with a smile. She worked hard with maintenance on all the Infection Control special cleaning and disinfecting to ensure our residents were protected.
Juana is originally from Guanajuato, Mexico and moved to the United States at age 14. Juana and her husband, Enrique have two sons, Kevin and Andy. They love to go watch their son's soccer matches. As a family, they are also incredibly involved in their Catholic church and can be found there at least three times per week. Once she leaves work each day, you can find Juana exercising at the gym. She loves the exercise and also finds shopping a relaxing thing to do.
At Woodland Ridge, Juana is always doing the little extra things to help her residents. She loves to talk with them while cleaning their room and loves to hear their life stories. She is also the first to offer help to other staff while they are caring for our residents. Everyone at Woodland Ridge agrees that Juana has the best attitude and she treats everyone like they are part of her family.
We are so fortunate to have Juana as part of our team!
Latest posts by Woodland Ridge Staff
(see all)