RESIDENT SPOTLIGHT November 2021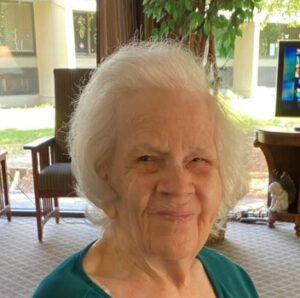 Our resident spotlight shines on Betsy Frater for the month of November. Ms. Betsy is originally from Tampa, Florida. Betsy's father was a WWI Veteran and later a buyer in the citrus industry. Sadly, he was killed in an automobile accident when Betsy was just 3 years old. Betsy's mother raised her with the help of her 2 older sisters. Ms. Betsy gets her love of music from her mother who was a voice teacher.
Betsy graduated from H. B. Plant High School and went on to graduate from Bethel Junior College in Kentucky as well as from the University of Tampa with a bachelor's degree in English. Betsy met her future husband, George Frater, at a church social. He was stationed in Tampa at MacDill AFB at the time and the story goes that he wooed her by talking about Einstein's Theory of Relativity. They married in 1956. George had some land in Wisconsin, so they moved there to start a chicken farm. This venture did not go as hoped, and the couple began an educational journey, moving to several cities before landing in Nashville, Tennessee. Along the way Ms. Betsy worked as an executive secretary for the college presidents, vice presidents or deans in each city. Along the way the started their family, having 2 sons and a daughter. In 1979 they moved to Tampa to be near Ms. Betsy's mother. Ms. Betsy worked for the Hillsborough County Hospital Authority at Tampa General and Hillsborough County Hospital.
Ms. Betsy has always been devoted to Jesus and continues to remember others with her giving, especially at birthdays and Christmas. Her son, Vince, remembers a favorite family story. After dinner one day, the family was relaxing on the porch and telling jokes. George told his favorite joke which got Betsy laughing which was so contagious that the rest of the family was soon laughing too. A nephew stopped by and was greeted by unending laughter. He was stoic and a stand off began that lasted a full 10 minutes. The moral of the story is that life should be enjoyed and not to miss an exciting moment.
Here at Woodland Ridge, Ms. Betsy loves the musical activities and joining in conversation with others. She always stressed to her children that to be a good conversationalist you don't need to know a lot, you need to remember to thoughtfully listen to others. We're so happy Ms. Betsy has chosen to call Woodland Ridge her home and become a part of our Woodland Ridge family.
Latest posts by Woodland Ridge Staff
(see all)