Our Woodland Ridge resident for the month of October is Ms. Naomi!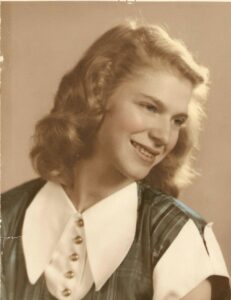 Ms. Naomi is originally from Acworth, Georgia, and grew up in a family with two younger brothers. She was always very involved in church: singing in the choir, participating in the ladies' ministries, daycare, and volunteering. In her later years, she worked as the church secretary. Ms. Naomi even met her husband in church too! 
Ms. Naomi and Her Husband
Ms. Naomi's husband was a mechanic and they had their own shop behind Dixon shopping center for many years. They were married for over 50 years and have five children: four sons and one daughter. They also have 13 grandchildren, and 20 great-grandchildren! Because of this, Ms. Naomi was always actively involved in Boy scouts, Girl Scouts, and PTA. Family and church have always been the most important things in Ms. Naomi's life. 
Carole, Ms. Naomi's daughter, says the family loved to go on car rides, especially to the mountains. She remembers camping at Lake Allatoona and trips to the mountains to play in the snow. One fun story is of the time Naomi and a couple of the kids took the boat out, but her husband hadn't put the plug in the bottom of the boat, so it started filling up with water. This led to lots of yelling and laughter. 
One of Ms. Naomi's hobbies is reading; To Kill A Mockingbird and War and Peace are her favorites. Gardening is another favorite—she loves growing vegetables and canning them. She is also known for her baking skills; the family favorites are her pound cakes, sweet rolls, banana pudding, and peach cobbler. Ms. Naomi also worked at Ridgeview in the office for 5 years during the 1990s doing transcriptions. 
Caring for others is Ms. Naomi's passion in life. This is evident at Woodland Ridge since Ms. Naomi can often be found helping to wipe off the tables and she loves to give hugs to everyone. We love being with Ms. Naomi because of her sweet attitude, ready smile, and those wonderful hugs!
Latest posts by Woodland Ridge Staff
(see all)