It's going to be frustrating when you try to talk to some seniors about assisted living. There's no way to get around that. Some people don't want to hear about various topics, which may include assisted living.
If you have been attempting to talk to your elderly mother or father about assisted living, but you can't get past the words themselves because they shut you down, shout over you, or even shut you out, it can be frustrating.
First, don't take it personally.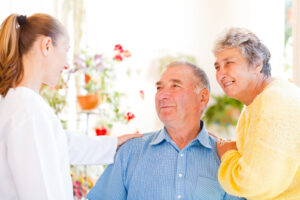 It may very well be personal to you, but if you take this personally, it is only going to frustrate you more. You may lash back out in anger at this parent or other loved one. Don't fall for that common trap.
Second, consider what they might be experiencing and thinking about assisted living.
You might be right. Assisted living could very well be the best option for them at this stage in their life. You may recognize the various safety hazards around them daily. They don't want to hear it. They don't want to think about it.
But if you are not listening to what they have to say, if you are not considering their emotions, their fear, their doubts, or even the misconceptions they have, you could be missing an incredible opportunity to get past this.
There could be a number of reasons why an aging parent refuses to listen when you talk about assisted living. Let's consider three possible reasons right now.
Reason #1: They have the wrong idea about assisted living.
Some people equate it with a different type of long-term care facility, one that doesn't have a good reputation. Not all facilities are the same, but the quality communities are like upscale living facilities.
The higher quality ones will have restaurant style eateries, great entertainment options, perhaps a fitness center on site, awesome transportation services, and (hopefully) a number of activities taking place throughout the week.
Reason #2: They are afraid of change.
Who isn't? Even change that is wanted can be stressful. If your aging mother or father has lived in the same house for many years, or even decades, guess what? The idea of moving can be traumatic.
If they don't want to even think about upgrading their life, downsizing, getting rid of furniture, mementos, and a collection of things that have gathered over the course of their life, it can cause them to push back and try to shut you down. Be sympathetic to that fear of change.
Reason #3: They think it's about getting rid of the problem.
They might think you are bringing up the topic of assisted living because you simply want to be done with the 'problem,' which they may see as that. If you have been taking care of them for a while, supporting them, assisting them, they might feel like a burden.
When you bring up the topic, they could view it as you trying to solve that "problem." Make sure you emphasize that you love them, you support them, and would do anything to help them, and that assisted living is not about pawning them off on someone else, but giving them an opportunity to maximize quality of life, enjoyment, and safety right now.
Latest posts by Woodland Ridge Staff
(see all)