When it comes to maintaining your health, taking care of your nutrition is one of the top priorities. However, as people get older, they may require help to eat healthfully. Luckily, there are numerous options that you, your senior loved ones, or even a third party can do to help with this.
Importance of Nutrition in Older Adults
Someone who is unfamiliar with this concern may wonder why this issue might sound more difficult and more crucial than a person of fewer years. The fact of the matter is that senior nutrition can become complicated due to how the human body changes over the years.
The World Health Organization (WHO) warns that seniors are particularly vulnerable to malnutrition. Due to their lean body mass and basal metabolic rate declining as they age, a person's energy requirement per kilogram of body weight decreases as well. Additionally, while your loved one may require less of certain nutrients, others may be more crucial. The WHO also warns that malnutrition and dietary factors affect the possibility of numerous diseases and disorders occurring in the senior. A few of these dangers include osteoporosis, cardiovascular disease, and coronary heart disease.
Difficulties in Maintaining Nutrition and Possible Solutions
Nutrition for older adults can be more complicated than merely providing the right amounts of nutrients. It may also be difficult for the senior to properly receive these nutrients. For example, your loved one may have difficulty chewing, upset stomach due to gas, or loss in appetite. They also may be physically incapable of cooking or shopping for themselves. This can make it challenging for them to get access to the nutrient-rich foods that they need. Each of these issues can be solved by many potential solutions, like replacing their usual food and drink choices with alternatives, having groceries delivered, or merely enjoying simpler meals.
According to Tufts University, there are several clear dietary needs in order for older adults to maintain their health.
A few include:
Maintaining an exercise regiment
Drinking fluids help to keep your loved one healthy
Implementing whole-grain products, fruits, dairy products, and vegetables
Reducing the number of meats and fats consumed
Some healthy recipes suitable for the senior in your life can be found here.
Potential Solutions to Nutritional Needs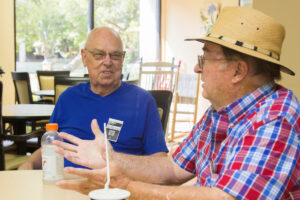 In addition to the solutions above to the simpler problems, there are other ways that your loved one's nutritional needs can be met. This would require having a third party help in taking care of your family member. The most useful way to accomplish this would be to have your loved one move into an assisted living community. Fortunately, Woodland Ridge assisted living offers many activities and services that will help your loved one live a happy and healthy life. Residents are offered a personalized care plan along with healthy and delicious meals.
We also offer scheduled transportation if your family member would wish to do their own shopping. Our cooking club is an excellent option for the residents that want to make their own meals and get new ideas for healthy recipes.
As you can see, there are many ways of helping with your loved one's nutritional needs, and you only need to choose which. It's important to take steps in helping their nutrition improve as they age to keep their maximum health to avoid any issues.
For more information about senior living, please visit our website!
Latest posts by superadmin
(see all)