As your mother deals with the signs and symptoms of memory loss, it will certainly become much more challenging to convince her that assisted living is right for her … right now. Memory care assisted living is ideal for aging Americans who are grappling with the long-term effects of memory loss.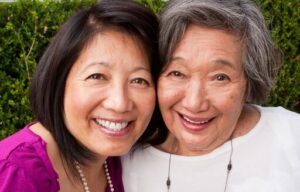 Whether it is due to an accident, stroke, aneurism, Alzheimer's, or another form of dementia, memory loss can be difficult for anyone to accept and endure. You may find it difficult in the extreme to explain why she should consider assisted living at this time in her life.
Depending on her overall cognitive function, you may even feel it's downright impossible to convince her to choose assisted living now. Below are three ways you just might be able to help her make this important and reasoned decision for herself.
1. Discuss the challenges she is facing now due to memory loss.
She knows, right? Maybe. But maybe she has blinders on because she doesn't want to deal with the reality staring at her every day. Sometimes it can be easy to ignore certain struggles we face, at least until someone we trust brings it back to our attention.
By talking about the challenges she's facing, you will not only show her the facts, but help her realize she is not the only one to see it.
If you feel uncomfortable about this, try to step back and separate yourself from the emotions of the situation. That's not always easy, but you could also ask another family member to meet with you to talk of this topic with her.
2. Explain the supportive staff at assisted living for memory care.
When she recognizes and admits to the struggle she's dealing with right now, you can then mention how the experienced staff at a memory care assisted living facility could be there to help her.
Sometimes, she may feel isolated and alone, especially when you're not there. Knowing there would be people around her all the time can offer a great deal of relief.
3. Focus on the activities.
Every assisted living facility will have some type of activities going on. You would need to find out what specific activities might be available at a chosen facility near your mother, and when you have facts, you can help her see the inherent value of choosing this for her future.
Memory care may be crucial to improving quality of life and safety when a senior is dealing with cognitive decline. Helping your mother see the benefits can allay her fears and help her accept this path for the future.
Latest posts by Woodland Ridge Staff
(see all)