Reading Time:
2
minutes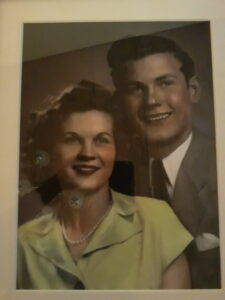 Born and raised in Jacksonville, Florida, Ms. Mary grew up on her parents' poultry farm with 6 brothers and 3 sisters. Ms. Mary is 3rd from the youngest and says her older brothers and sisters were nearly grown when she came along. Her family had 5 of her brothers in the Navy in WWII and gratefully they all returned home. After she graduated from high school, Ms. Mary went to work at Sear's Department Store. A coworker's boyfriend introduced her to her future husband, Al. They dated for 3 months before getting married and that marriage lasted 73 years before Al passed away.
Ms. Mary and Al had 2 daughters and one son. They now have 9 grandchildren, 10 great grandchildren and even 3 great-great grandchildren. In 1947, they moved to Daytona Beach and raised their children there. Ms. Mary was a stay-at-home Mom who did lots of PTA work and church work. Later, when her children were grown, Ms. Mary was a hostess at her church, helping with weddings and luncheons, as well as going to nursing homes to visit the people there. She also helped care for her mother-in-law who lived with them the last 3 years of her life. Ms. Mary worked for the Red Cross and was a blood donor, donating over 11 gallons over the years.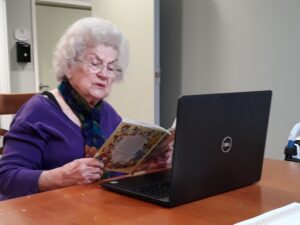 In her spare time, Ms. Mary enjoys playing canasta, church activities and visiting family that lived out of town. Ms. Mary's family has annual family reunions that she helped plan and organize. She says she enjoys reading and as a family they did some traveling in the southern states. Here at Woodland Ridge, Ms. Mary loves to play bingo, enjoys the crafts, music activities and is a regular at our exercise classes. Reading to the Nickajack Elementary students is a weekly Zoom visit that Ms. Mary loves too. Sitting in the courtyard to soak in the sun is another favorite thing to do.
We love having Ms. Mary as part of our Woodland Ridge family. She has the best sense of humor, that winning smile and a wonderful attitude.