Picture this: you begin your day with a fresh cup of coffee while overlooking the courtyard and gardens. You sit quietly, enjoying the morning sun on your face, and planning out your day. Should you stop by the barbershop or beauty salon for a freshening up? Head over to Cobb County Rhyne Park for a picnic and afternoon stroll? Or maybe make your way downtown and explore the library, the arboretum, and the Village Green? Whatever you choose, it's all possible here at Woodland Ridge in Smyrna, Georgia. 
Nicknamed "The Jonquil City," Smyrna, Georgia, boasts tranquil natural areas, historic sites, and lively dining opportunities—all tied together with classic Southern charm. In the center of it all sits Woodland Ridge, a community of people who live life well. 
Offering assisted living, memory care, short-term care, and therapy services, Woodland Ridge is Georgia's first non-profit assisted living community. We are deeply rooted in the community, providing a rich history of compassionate care with strong clinical and educational affiliations.
Woodland Ridge invites you to discover why seniors love living in Smyrna, Georgia. From the classic Southern charm to the convenient location, it's easy to see why. 
Charming and Lively
Smyrna, Georgia, is a quaint and historic town located in Northern Georgia. As part of the Atlanta metropolitan area, Smyrna is only 10 miles from downtown Atlanta—offering the best of both small-town suburbs and big-city excitement. 
Smyrna is rich in Civil War history and is home to two significant battlegrounds. History buffs will love exploring these historical sites as well as the Smyrna History Museum. 
In addition to history, you'll find inviting trails, parks, and open spaces to reconnect with nature. The city features Taylor Brawner Park, a 10-acre natural park with a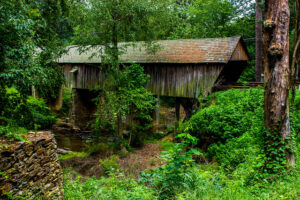 gazebo, amphitheater, open areas, and trails. Smyrna is also home to the beginning of the Silver Comet Trail, a 61.5-mile rail-trail that runs from Smyrna to the Alabama state line. 
Another famous landmark is Concord's Covered Bridge, a small one-way bridge that dates back to the 1870s. This unique bridge is listed on the National Register of Historic Places (one of only 16 in all of Georgia!) and draws tourists from all over to see its impressive structure and preservation. 
The Power of Community 
Just as seniors love Smyrna, Smyrna loves its seniors. As with any small town, Smyrna, Georgia, is full of Southern hospitality, respect, and community. Amid the pandemic, the Smyrna Police Department partnered with the mayor to provide grocery and medicine delivery services to older adults in the area to reduce exposure to the coronavirus. It's small acts of kindness like this that truly emphasize the importance of community and kindness here in Smyrna. 
Discover Your Retirement in Smyrna, Georgia 
For older adults looking for a retirement lifestyle that's equal parts peaceful and active, Smyrna is an ideal location. The quaint city center and Village Green evoke a sweet nostalgia of times gone by, and the proximity to Atlanta instills a feeling of excitement for a new stage of life. 
Amid the history, community, and nature, sits Woodland Ridge Assisted Living, a community of people who live life well. At Woodland Ridge, we take the beauty and benevolence that already exists in Smyrna and bring in into the walls of our neighborhood.
Here, we are dedicated to making our residents feel at home and welcome, both inside and outside the community. We deliver compassionate, consistent care that fosters independence and maintains dignity. Each of our care levels provides unique and focused attention to our residents. 
Supportive Care: Assisted Living 
Our assisted living services in Smyrna, Georgia, offer all the comforts and conveniences of home, in an environment that delivers assistance and support. Our dedicated staff genuinely cares for each resident, assisting them with activities like dressing and grooming, but also with personal growth goals and progress. 
Specialized & Safe: Memory Care
Our memory care program offers highly-specialized and unique care for those living with Alzheimer's or other forms of dementia. We believe those living with dementia deserve unrivaled support, so we offer innovative programs and daily routines to ensure our residents are thriving. 
Offering a Helping Hand: Short-Term Care 
Our respite and short-term care services offer temporary care to older adults, whether for a few hours or a few weeks. These services provide relief to family caregivers—allowing them to take a long weekend, make an appointment, or simply take a break. 
Our respite services also allow adults to experience the welcoming atmosphere of Woodland Ridge and the Southern charm and hospitality of Smyrna, merging for the genuinely ideal senior living experience. 
Woodland Ridge Welcomes You! 
It's no surprise why so many seniors love living in Smyrna, Georgia. The quaint city provides the perfect balance between classic Southern charm and modern-day adventure. You can spend a day surrounded by nature, history, and peaceful enchantment, or you can make your way to Atlanta and immerse yourself in the excitement of music and culture, world-renowned cuisine, and the bustle of the city.
Southern hospitality partnered with a convenient location makes Smyrna, Georgia, a unique and alluring place for senior living. Between its history, nature, and people, Woodland Ridge is undoubtedly a community of people who live life well. We serve our residents and our community with compassionate care, dedicated involvement, and much more. 
For more information on Woodland Ridge Assisted Living in Smyrna, Georgia, we invite you to contact a member of our team today. We look forward to welcoming you home. 
Latest posts by Woodland Ridge Staff
(see all)